It's been just over two months since the biggest pricing shakeup for some time in the insurance space, initial indications are showing that new business prices have risen in 2022.
Confirming many expectations that a ban on introductory offers and price walking would see new business premiums rise. This should not come as a surprise or cause concern that the policy is not working, as the FCA itself predicted "new business prices may rise for some customers, particularly those who shop around."
While insurance companies align with the new regulations over the coming months, more fluctuations are expected as the industry works to become compliant and find its place in the new competitive landscape.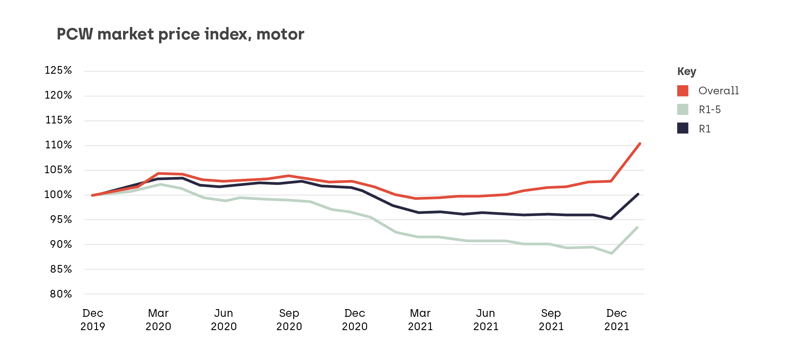 The average R1-5 new premium quoted for new customers in motor insurance rose by 5.7%, representing the single biggest monthly changes on record.
For insurance claims and underwriting teams striving to meet the regulations, being able to identify the risk and price for claims fairly while supporting the new FCA rules as well as maintaining and earning customer trust has proven difficult. But not impossible as demonstrated by Cazoo Data Services.
Our products are designed for the automotive industry, supplying insurance companies access to the largest vehicle history database on the planet, our unrivalled database combines historic vehicle data with information from the DVLA, DVSA and MOT history to give insurance companies all the information that's available on any one vehicle. We offer a one stop shop convenience, so you don't have to look anywhere else for crucial data.
We bring innovative AI and data science-driven modelling to an outdated sector that relied heavily on manual editorial processes and opinion in an attempt to establish current and future vehicle values. Offering clear data and insights that insurers love. The most popular choices for insurers are our APIs and Claims Companion.
The Companion tool helps insurers make the most of their claims handling. Our free ebook explains how having access to real-time factual data and insights can provide a clear understanding of the market making spotting fraud easier and also pricing those legitimate claims fairly.
Our data allows insurers to check they have priced risk accurately not just competitively
To learn more about how we can support your insurance business contact the team today.
You can stay up to date with all the latest and greatest Cazoo Data Services and industry news by following us on Twitter, LinkedIn and our recent articles.