By 2030, it is anticipated that there will be between approximately 8 million and 11 million hybrid or electric cars in the UK, if uptake is aligned with the Road to Zero (RTZ) targets. By 2040, the number of hybrid or electric cars could reach 25.5 million.
SMMT reported that it was the best ever month for battery electric vehicles (BEVs) continuing to enjoy tremendous growth, with 39,315 new zero emission cars leaving dealerships – an increase of 78.7% on last year – and taking a 16.1% market share.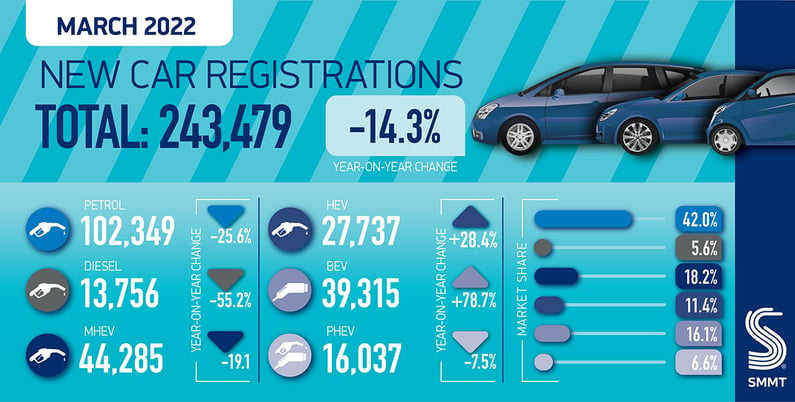 Electrified vehicles now account for one in three registrations
In tandem with these increases, the insurance market will also undergo rapid and dramatic changes. Understanding the risks and liabilities associated with EV insurance at inception will certainly present some challenges.

Some of the main concerns will centre around how these vehicles, the new technology within them and the claims infrastructure will transform.
Product Liability - Fewer but more integrated parts, replacement of parts
EV repair impact - Part availability, reprogramming and software Compatibility
Property Coverage - Fire and explosion risks associated with high voltage batteries
Cyber Insurance - To cover exposure associated with increased use of data & connectivity
Businesses that take advantage of new technology and real-time valuation tools will be highly competitive and at the forefront of tomorrow's EV insurance needs.
Unlocking access to data and insights that ensure the best decisions are made for each claim will be key. Cazoo Data Services products are designed to help insurers make the most of their claims and fraud handling. Our unrivalled database combines historic vehicle data with information from the DVLA, DVSA and MOT history to give insurance companies all the available information on any one vehicle.

Cazoo Data Services tools uncover VIN-level detail and reveal everything from vehicle mileage and valuation through to modifications and MOT advisories. This means insurers can see the full picture and truly understand the risk factor of the vehicle and decide whether to accept this risk and on what terms. Our data helps insurers validate information and underwrite high-quality new business.

We bring innovative data science-driven modelling to an outdated sector that relied heavily on manual editorial processes and opinion in an attempt to establish current and future vehicle values. Offering clear data and insights that insurers love. The most popular choices for insurers are our APIs and Claims Companion.
Our data allows insurers to check they have priced risk accurately, not just competitively.
If you're ready to take that next step towards digital transformation with advanced innovations that enable a highly competitive business, contact one of our experts at sales@data.cazoo.co.uk or complete our online form today.
To keep upto date with all the latest news about Cazoo Data Services and the industry, you can follow us on Twitter, LinkedIn and our recent articles.