It is estimated that the future of buying car insurance in the United Kingdom will be dominated by online sales.
By 2024, it is estimated that two thirds of the total value of motor insurance premiums written will come from online sales.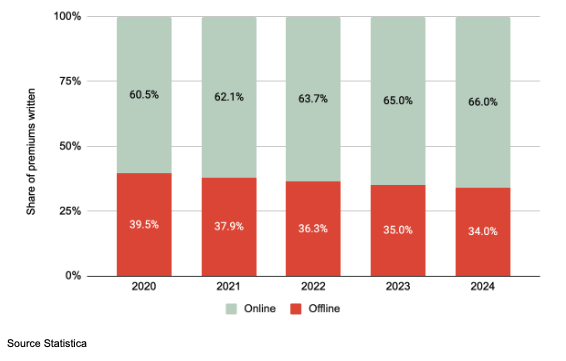 Increasing customer expectations spurred by the rise of digital innovation are impacting the insurance industry. Good customer experience leaves people feeling heard and appreciated; it minimises friction, maximises efficiency and maintains a human element. Give customers a great experience and they'll buy more, be more loyal and share their experience with friends.

For exceptional customer experiences and business growth, a fine balance needs to be struck. Insurers need to be flexible and adopt innovative tech that will focus on the customer's current position in the journey and improve it faster than other insurers.
Cazoo Data Services' tools can directly help insurers' customers.

We can pre-populate a number of fields based on a VRM number so when a customer enters one into an online form, we'll automatically fill in as many as 11 different fields in a standard insurance journey including its value, mileage and date of purchase.

When a customer enters a VRM number in an online form, we can pre-populate as many as 11 different fields in a standard insurance journey, including the vehicle's value, mileage, and date of purchase. With the information in front of them, there's no need for a customer to navigate away, making their insurance journey smoother and increasing your rate of conversion. In addition to the data the customer sees, we can also provide underlying data to the insurer to help better price the risk and offer the most appropriate quotation, again increasing the likelihood of conversion.

Access to real-time data means that rather than simply upping costs - which risks losing business or causing issues with financial authorities - you can precisely and appropriately set second-year premiums. Present these insights to your policyholders as a new and yet legitimate reason to get in touch. An MOT renewal on the horizon or a vehicle going on sale? Don't let these opportunities for customer contact pass you by.

Our unrivalled database combines historic vehicle data with information from the DVLA, DVSA and MOT history to give insurance companies all the available information on any one vehicle. Insurers can also identify pre existing damage, check for modifications and detect attempted fraud by viewing images, mileage, price and text from previous listings. In addition our data-driven valuations are backed up by comparable vehicles for sale in the current market.
Its user-friendly interface, provides direct access to hundreds of historical, current and future data points in just a few clicks :
Enabling you to:-
Rich Vehicle values
Pre-population of fields
MOTs & test results, VRM, number plate, and keepers
Detailed timeline of sales events inc. sales advertisements
Reduced Claim Processing time
Spot Fraud quickly / Risk flags for when customer modifies
Potential warning of imminent fraudulent claims
Valuations / Market forecasting
Our tools are relied on by some of the biggest names in insurance including Financial Ombudsman, Direct Line, NFU Mutual, Esure and Covea Insurance. We work with insurers, brokers, engineers and price comparison websites of every shape/size, powering the complete customer cycle, providing data-derived insights from quote through to claim.

Don't take our word for it, take a look at our customer case studies and what our clients have to say about us.
If you're ready to take that next step toward digital transformation with advanced innovations that enable a highly competitive business, contact one of our experts at sales@data.cazoo.co.uk or complete the contact form online.
To keep up to date with all the latest news about Cazoo Data Services and the industry, you can follow us on Twitter, LinkedIn, or visit our Website.